As an Amazon Associate I earn from qualifying purchases at no additional cost to you.
Hikes and History
Combine Theodore Roosevelt National Park and the town of Medora and you have a great destination for a vacation. Medora is a tourist town that presents itself more like an old-time frontier town. It is home to stores, restaurants, shows, and other attractions like golf and a zipline.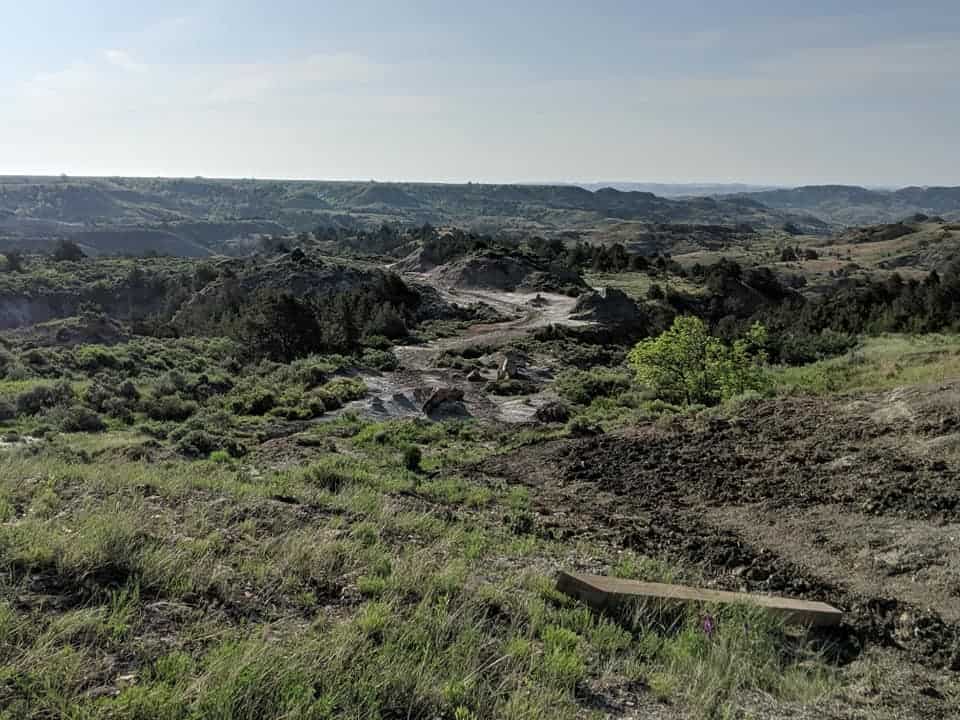 Theodore Roosevelt National Park is made up of three different units, each providing a chance to admire gorgeous landscapes and watch wildlife. In the park, there are numerous hikes available and two scenic drives that will allow you to see the wide range of scenery that it has to offer. You can even visit President Teddy Roosevelt's Elkhorn ranch. I would encourage you to plan for at least 2-3 days in the area to properly see what the park and Medora have to offer.
Theodore Roosevelt National Park
Theodore Roosevelt National Park has a $30 entrance fee that is good for all three sections of the park for 7 days. This pass will cover everyone in a single normal non-commercial vehicle (a regular car or truck). As mentioned before, this national park consists of three different sections: North Unit, South Unit and Elkhorn Ranch. Be aware that they are in two different time zones.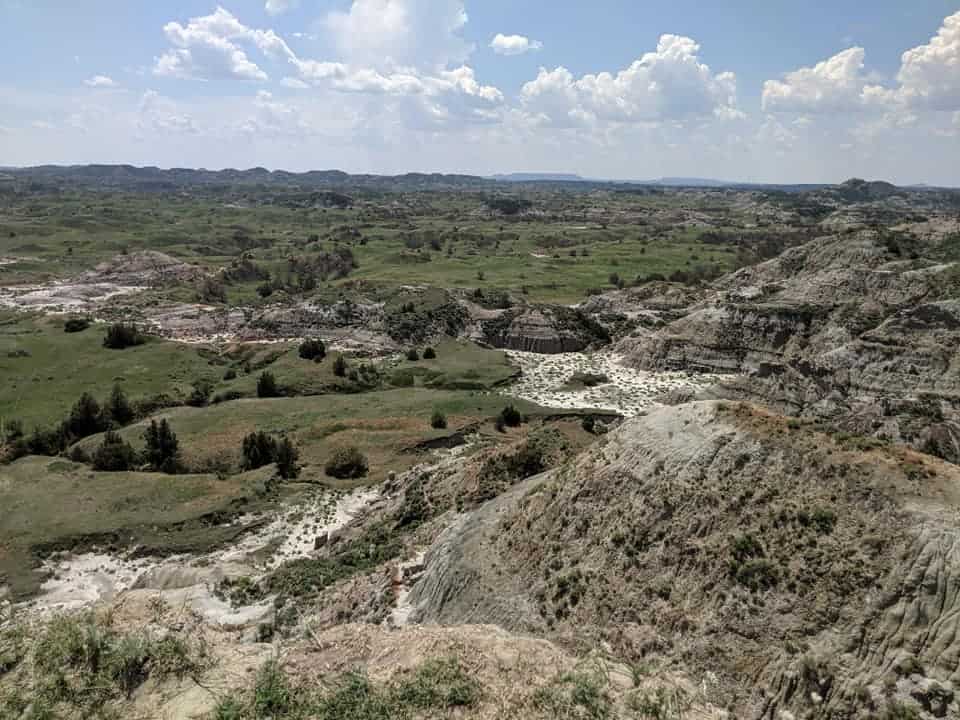 The North Unit is in CST and the South Unit and Elkhorn Ranch are in MST. The North and South units both have visitor centers where you can get your National Park Passport stamped and pick-up maps of the area. Each also has scenic drives with pull off points available to give you more time to enjoy the views. The North unit is near one of the two National Historic Sites in North Dakota if you wanted to take a break from the park.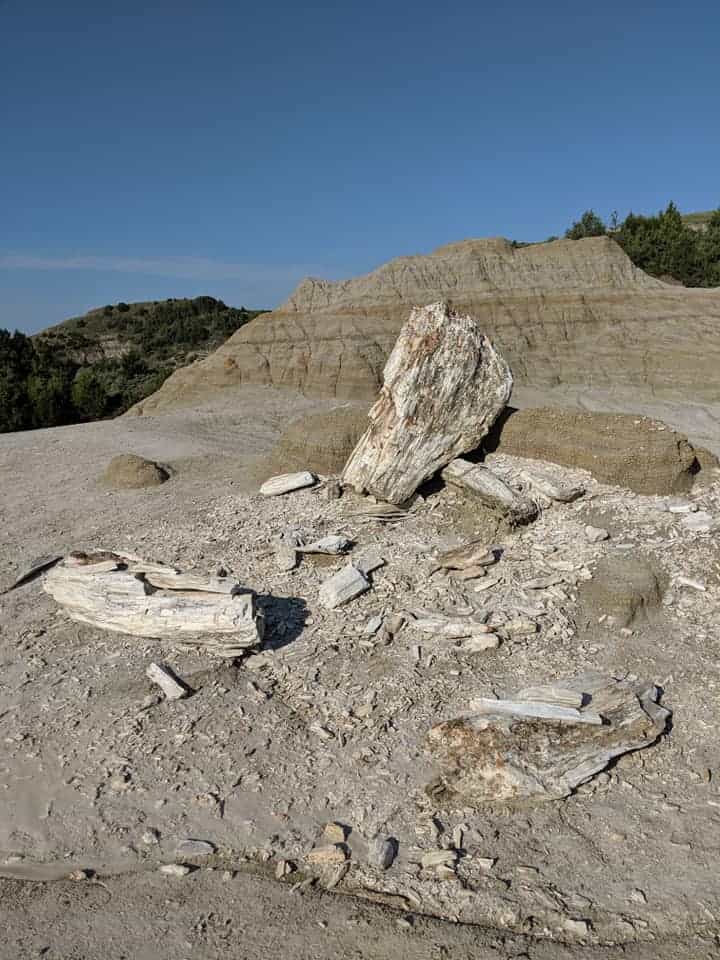 Pets are technically allowed in the park but cannot be walked on any of the trails inside the park. This means that they need to remain in your vehicle, or the campgrounds for most of your stay. There are some trails that you can walk your dog on outside of the park.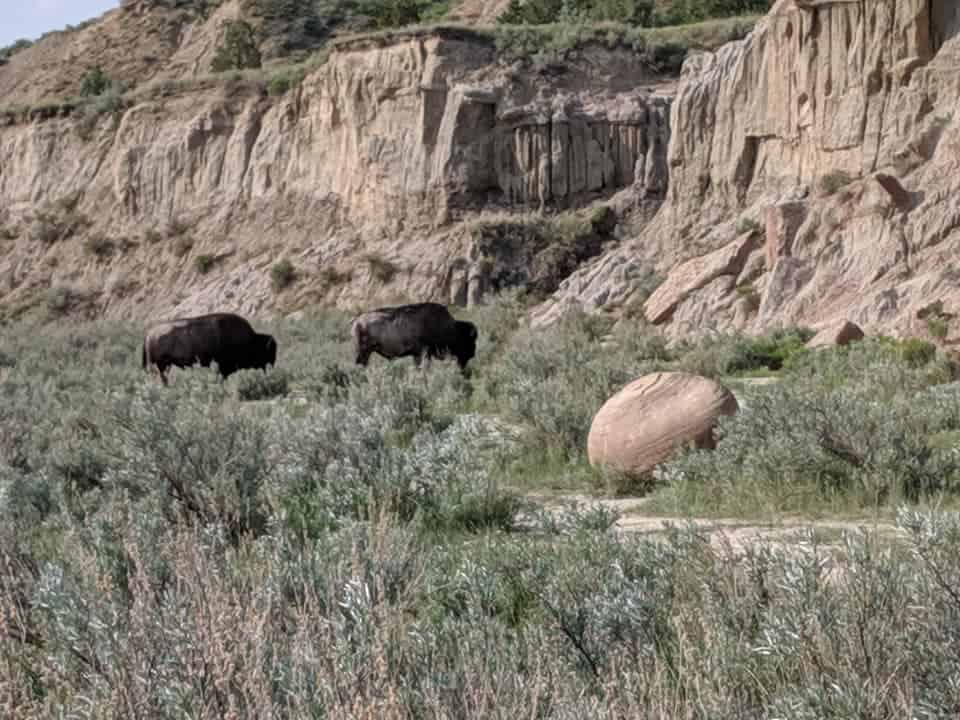 North Unit- Theodore Roosevelt National Park
The North Unit consists of a visitor center, multiple trails, Juniper campground and a 14-mile scenic drive (28 miles by the time you drive to the end and back). This scenic drive is the only way through the park and provides a great opportunity to see the landscapes and wildlife. If you go in the spring, you will even have the chance to see bison calves.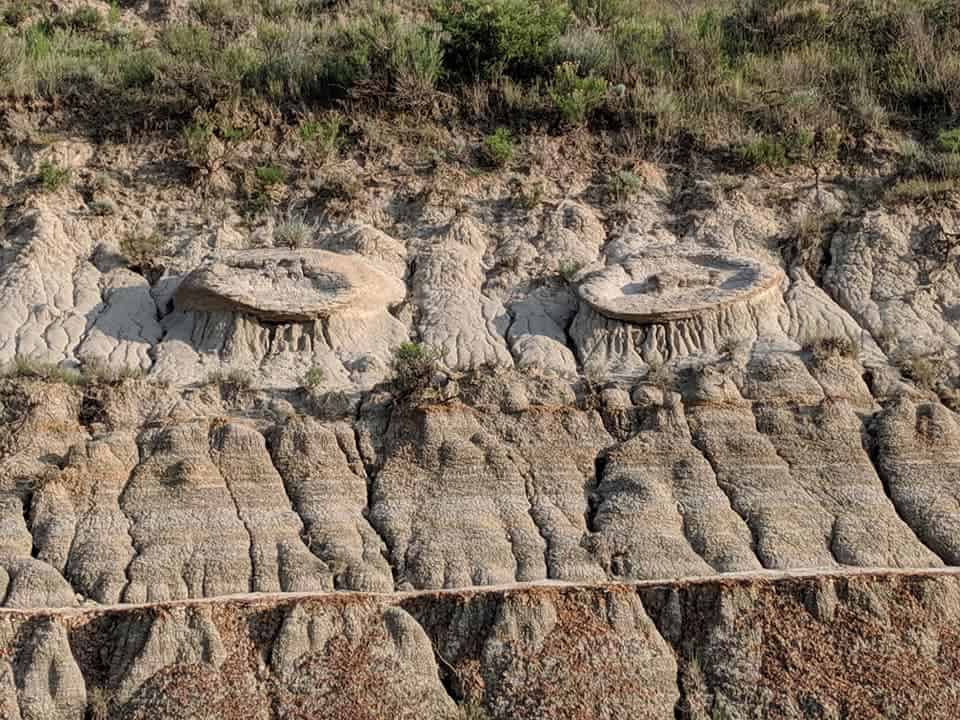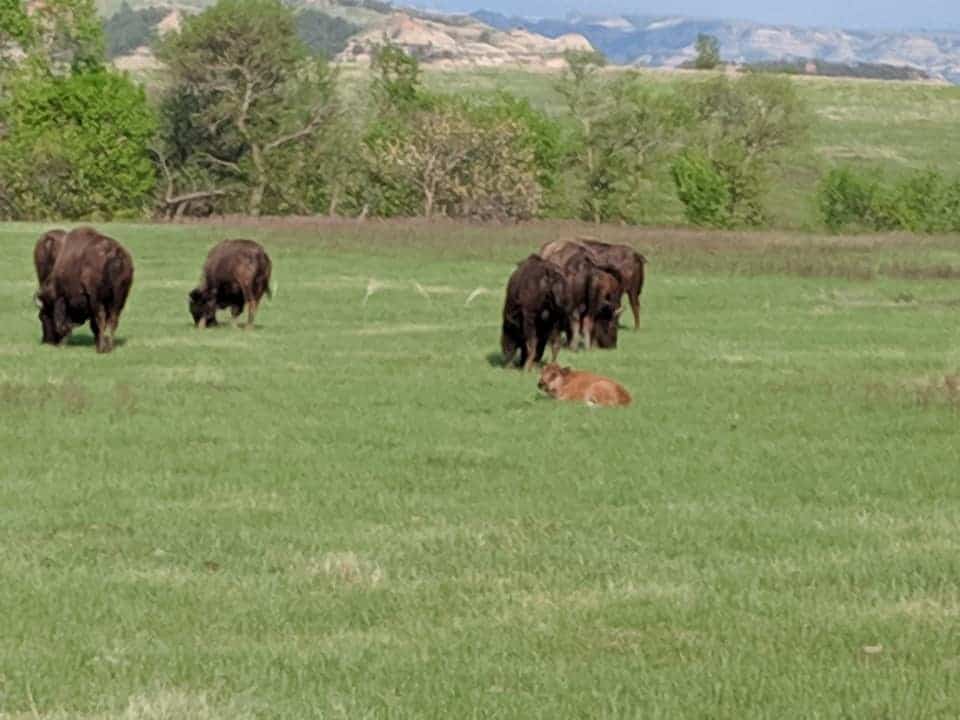 North Unit Campground
Juniper Campground is first come, first serve and they are open to tents, RVs and trailers. You self-register at the campsite and the rates are seasonal. In the summer months the sites are typically around $14 a night.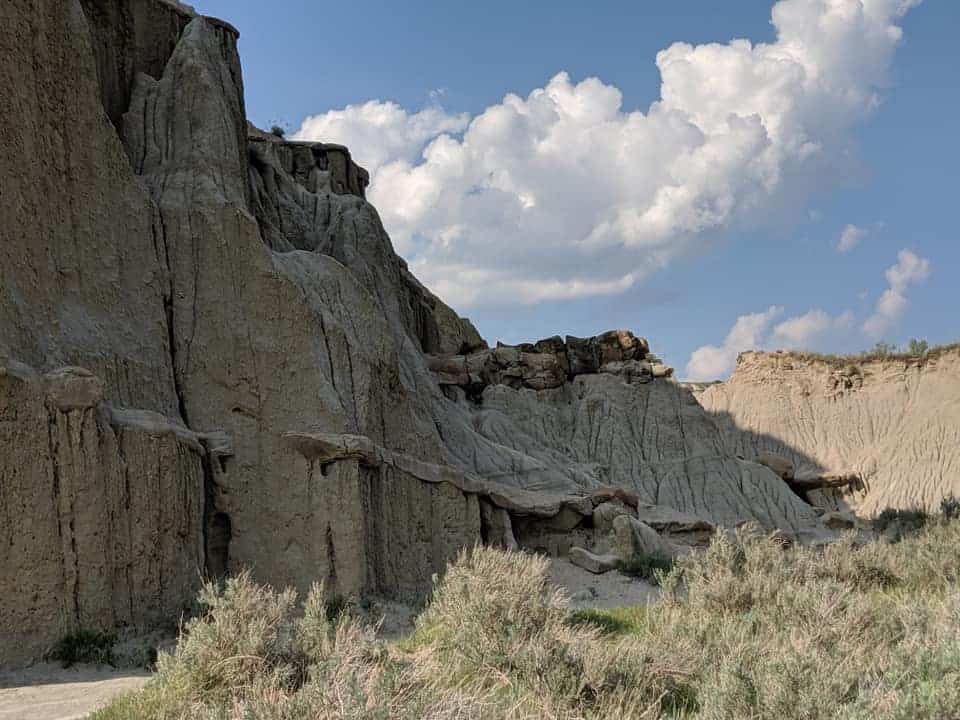 North Unit Hiking Trails
There are several hikes available with different mileage points available in the North Unit.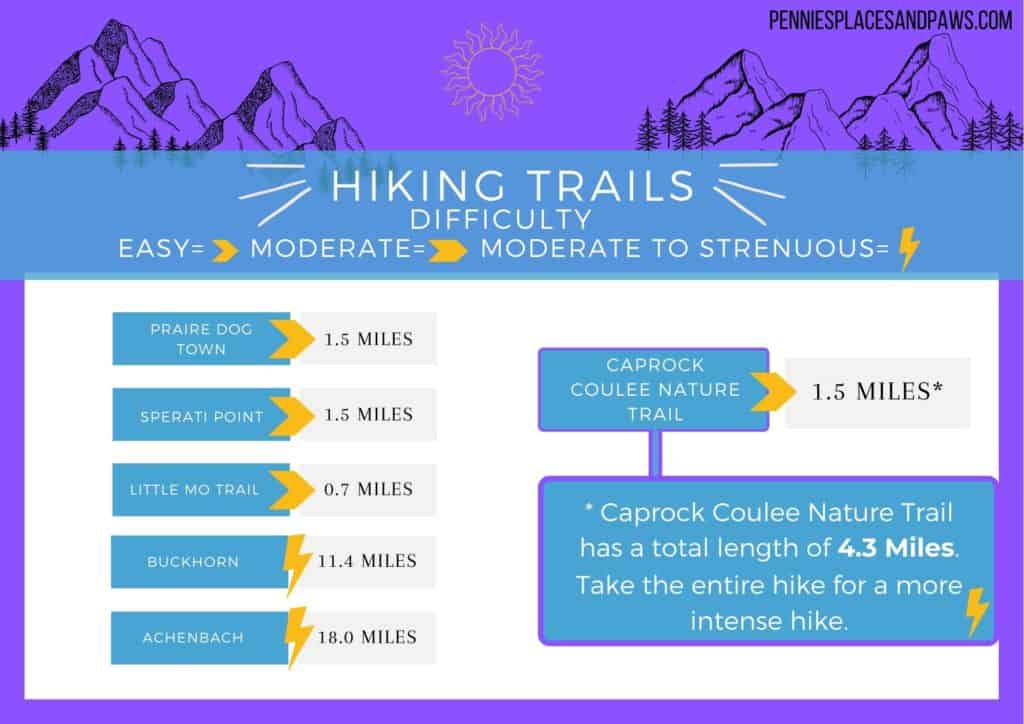 The park is open to backcountry hikes, just remember to get a permit first if it will be an overnight trip.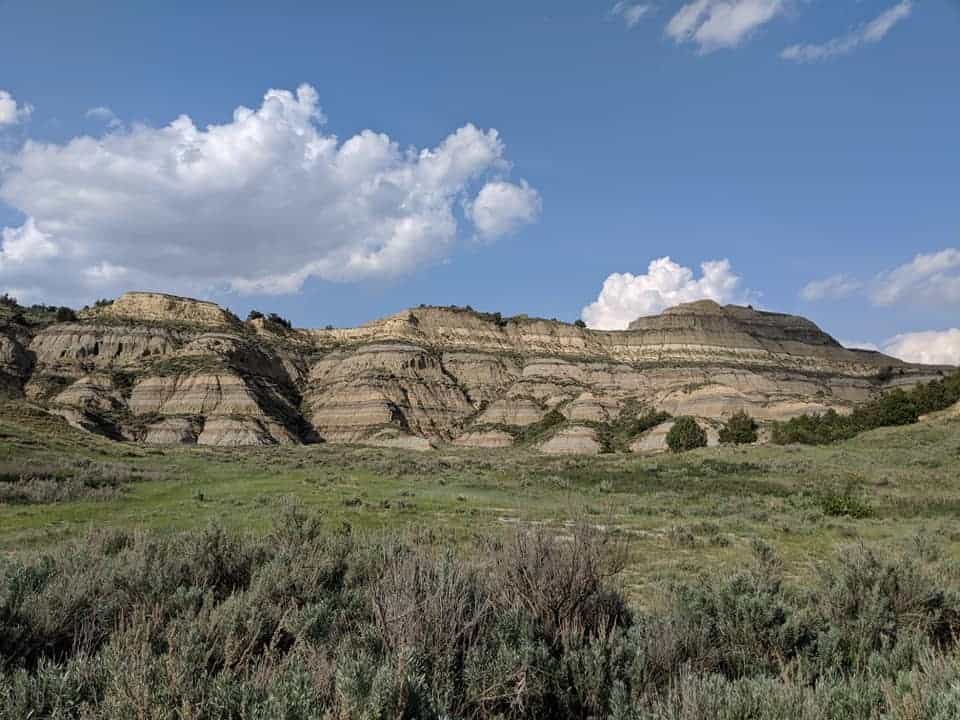 South Unit- Theodore Roosevelt National Park
The South Unit consists of two visitor centers, multiple trails, several campgrounds, and a 36-mile scenic drive. The scenic drive is the best way to see the park. They estimate that it will take around 1.5 hours to do the drive, but I suggest budgeting for more time.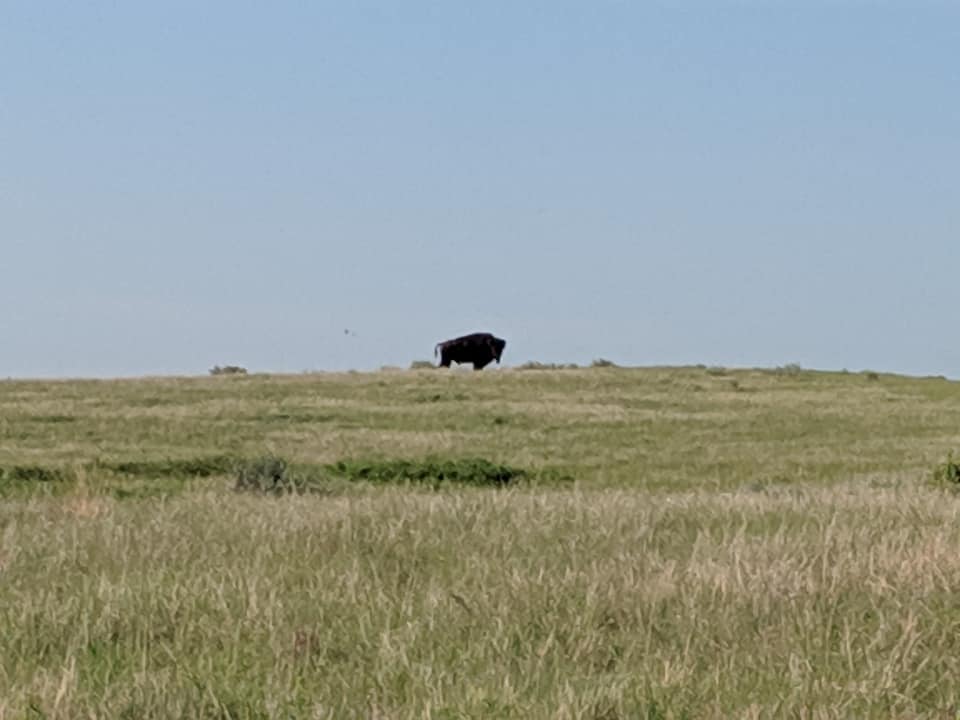 The wild animals in the park can often cause traffic jams as they cross the roads. Please be respectful of the animals and remember that this is their home. It would be a shame to injure or kill an animal because you were in a rush or not paying attention. Theodore Roosevelt National Park is one of the few places you can see wild horse so be sure to keep an eye out while in the South Unit.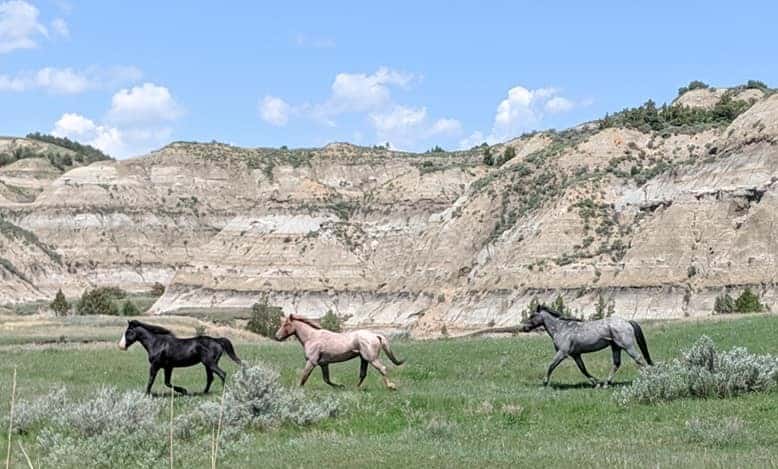 South Unit Visitor Centers
Painted Canyon Visitor Center
The Painted Canyon Visitor Center is located off I-94 and is not an entry into the park. This visitor center has a gift shop and rest area. This is also where you access the Painted Canyon trail.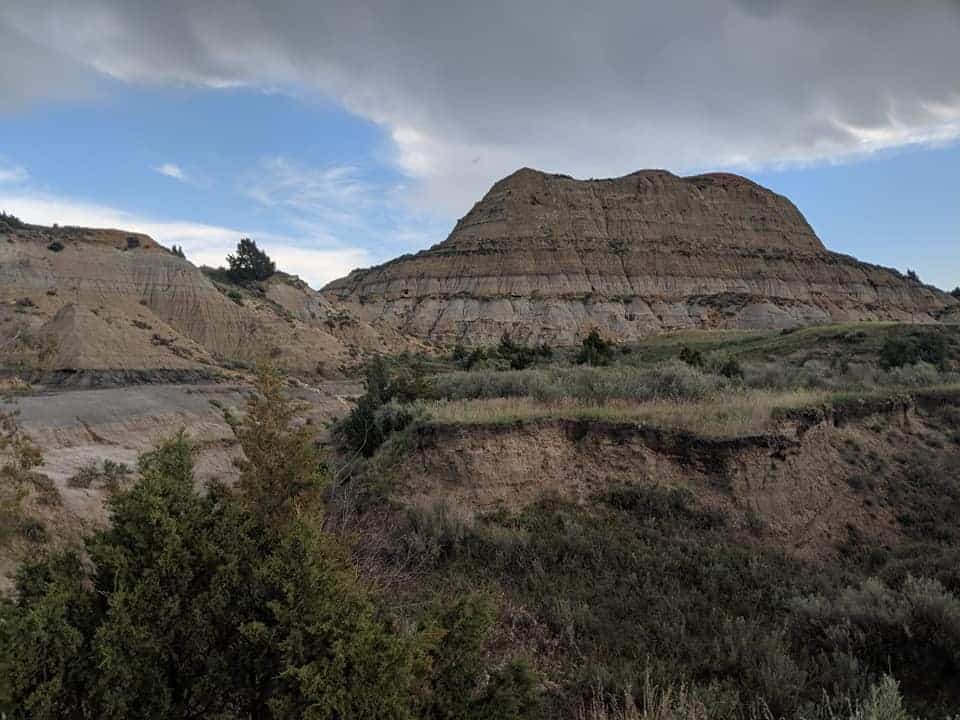 South Unit Visitor Center
The South Unit Visitor Center is technically in the town of Medora, and the start of the scenic drive. At this center, there is a short movie about the history of the park. There is a museum inside that houses artifacts from Theodore Rooseveltas well as Theodore Roosevelt's Maltese Cross Cabin. Both are open during visitor center hours. You will also find another gift shop at this location.
South Unit Campgrounds
There are two different campgrounds located in the south unit: Cottonwood and Roundup Group Horse Campground. Cottonwood is a primitive campground, and half the sites are first come first serve, and the other half can be reserved. The Roundup Group Horse Campground is reservation only and is open to people camping with their horses. You can also go backcountry camping but you will need a permit (its free).
South Unit Hiking Trails
The South Unit is home to most of the trails in Theodore Roosevelt National Park. Part of the South Unit Scenic Byway was closed when we went so, we were only able to do 5 of the trails; Painted Canyon, Buck Hill, Coal Vein, Boicourt and the Petrified Forest Trail.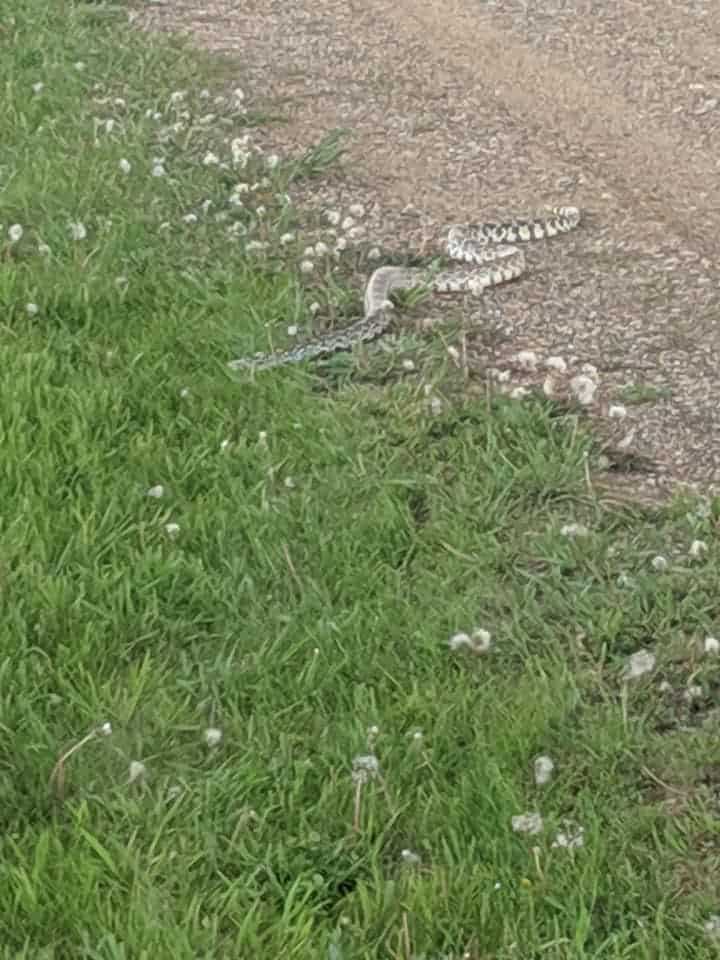 Painted Canyon trail is .9 miles and leads down into the Painted Canyon and has wonderful views.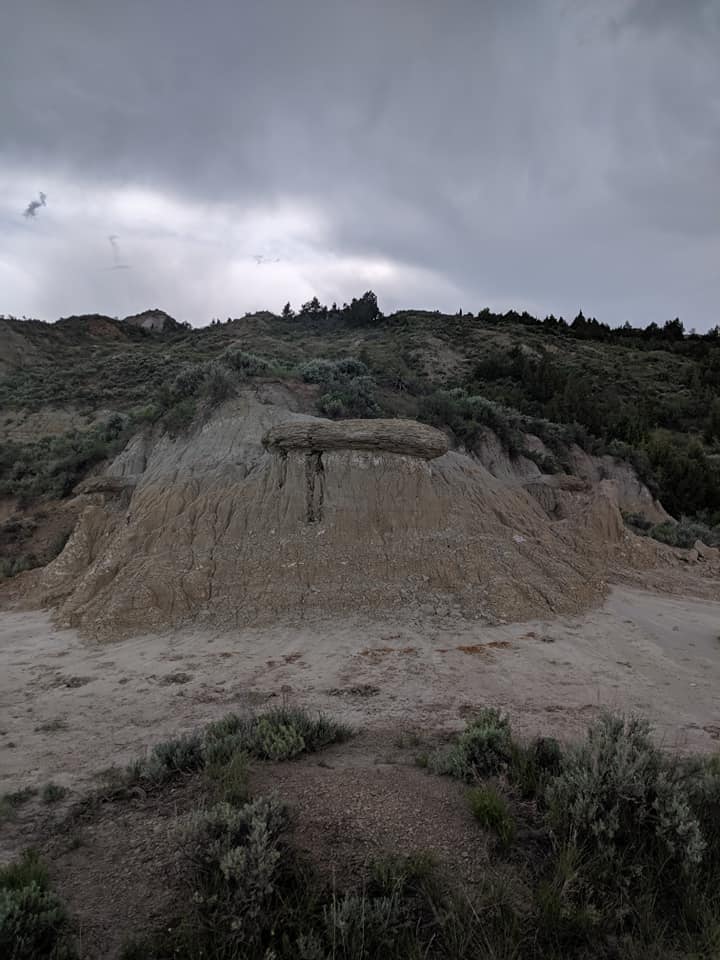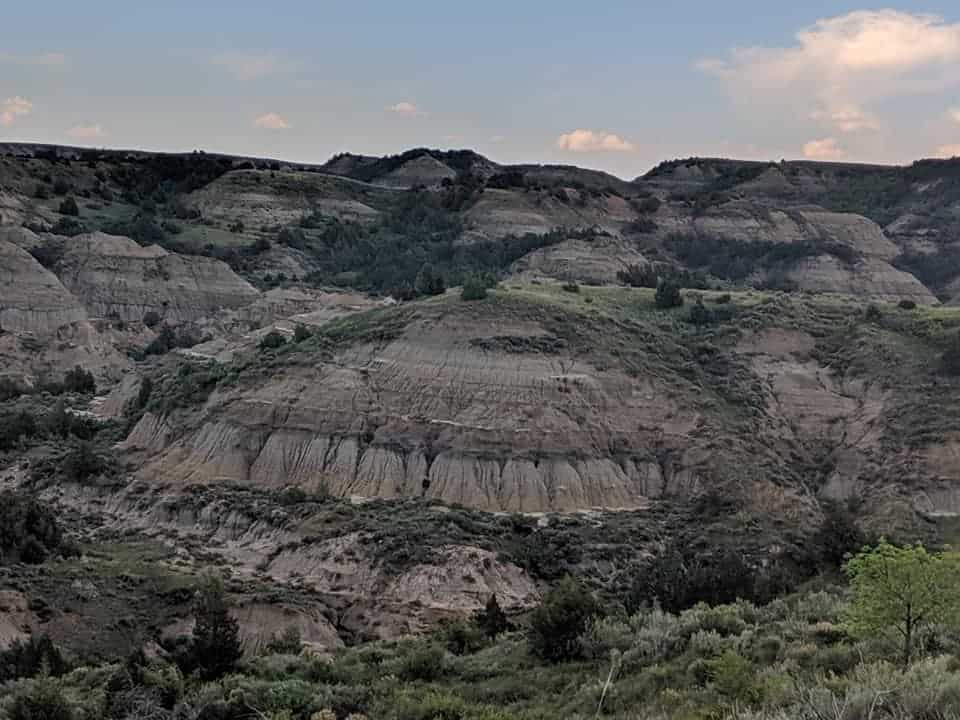 Buck Hill which was a short little 0.2-mile hike offered a nice view of the surrounding land.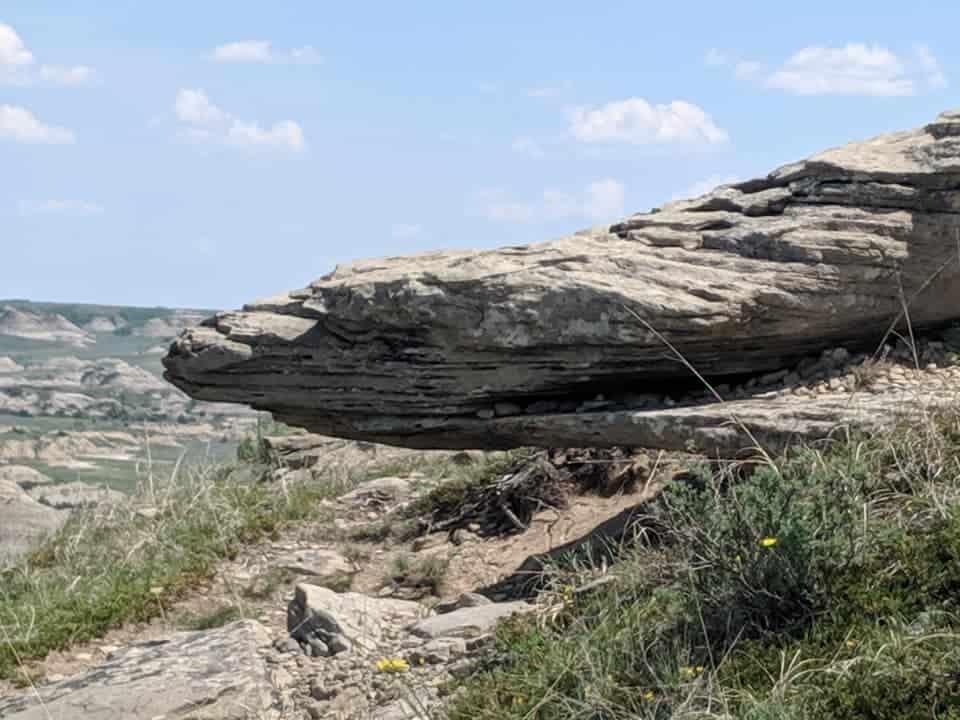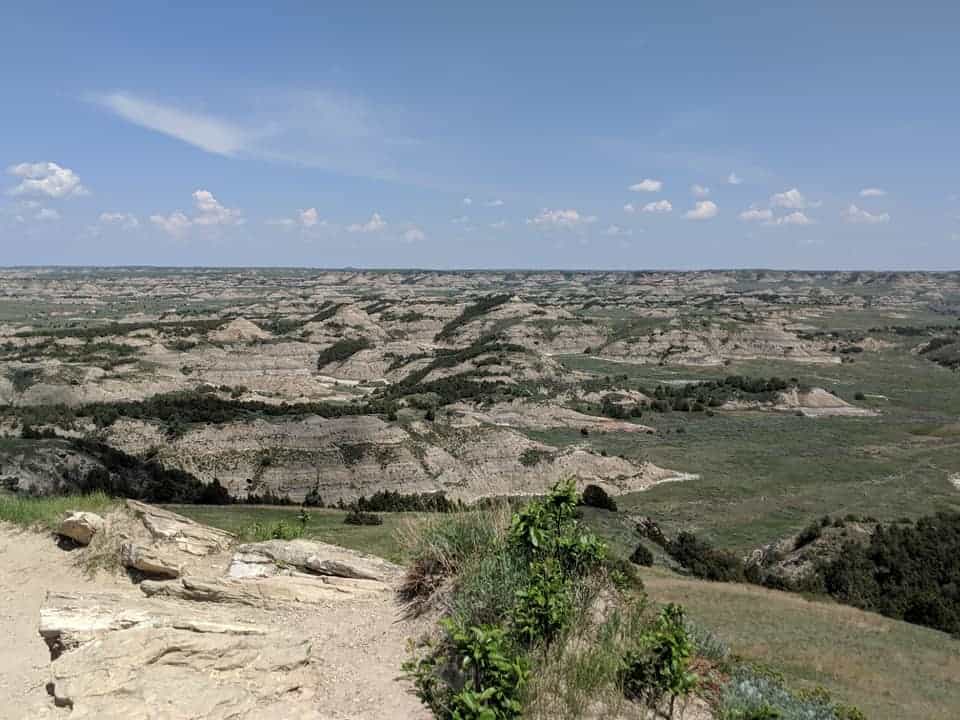 The Coal Vein Trail is 0.6-0.8 miles depending on which route you take. The views on this hike are not much different than what you could see from the roads, but you are able to see an exposed coal vein that had caught fire and burned for 26 years.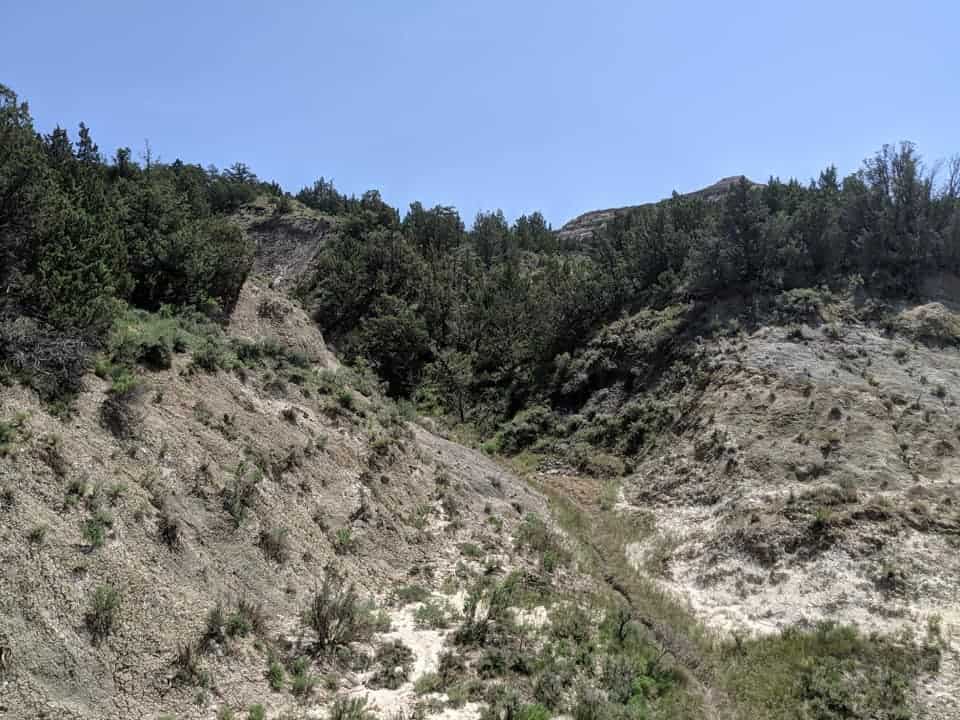 The Boicourt Trail is 0.2-mile hike out to an overhang that offered spectacular views of the surrounding area.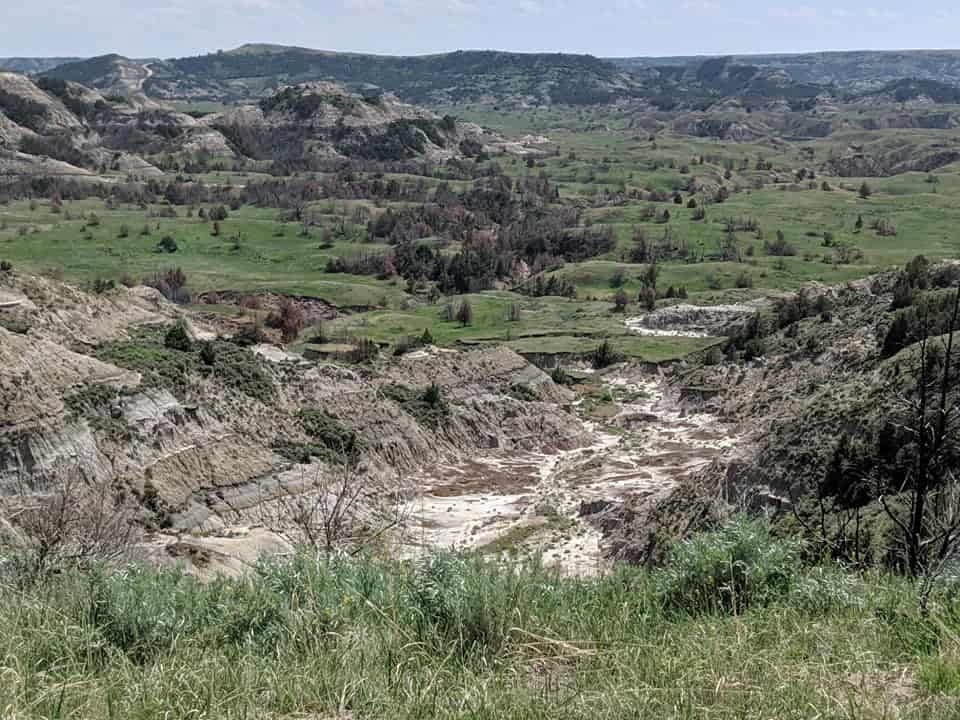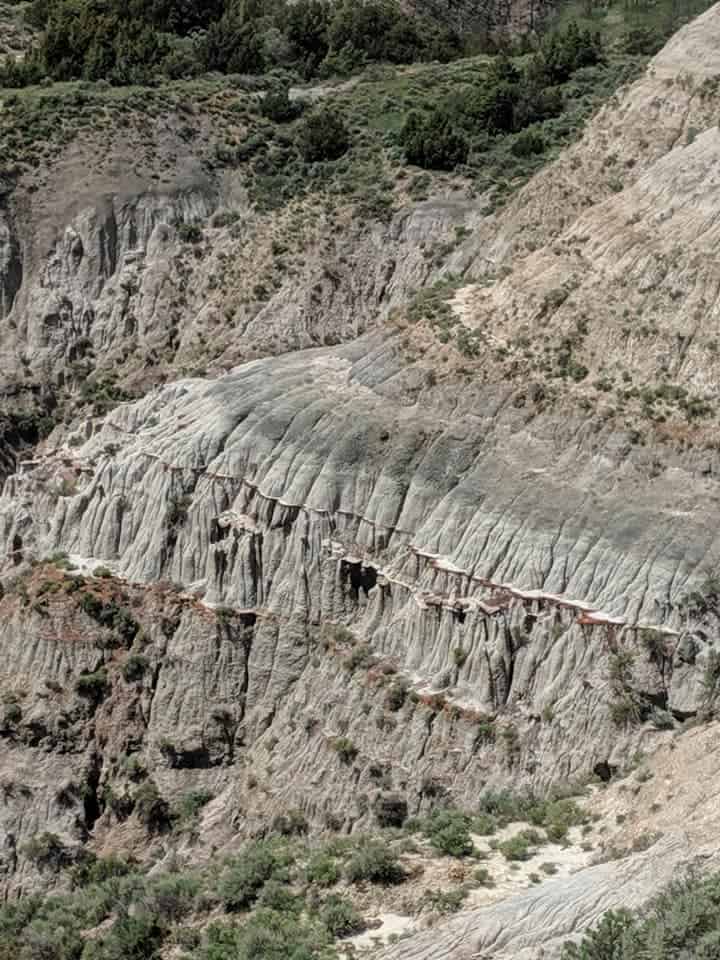 Petrified Forest Trail is a 10.3-mile loop, but it can be divided into two sections. There is the north trail, which is supposed to be the more beautiful section of the trail, and there is the south trail which is the shorter of the two. You will find petrified wood on both sections of the trail.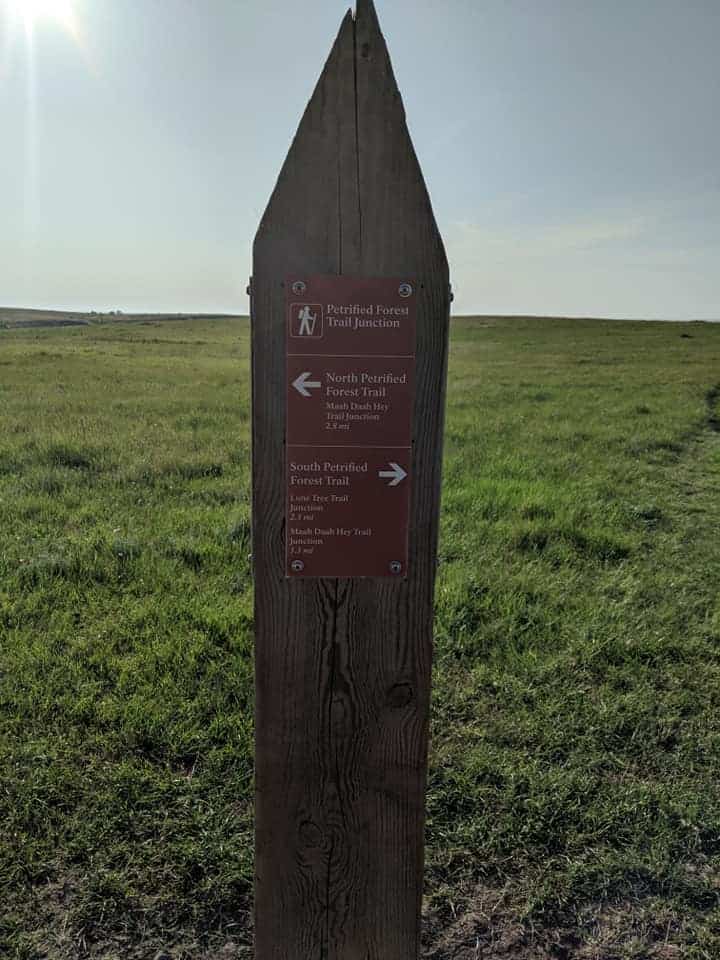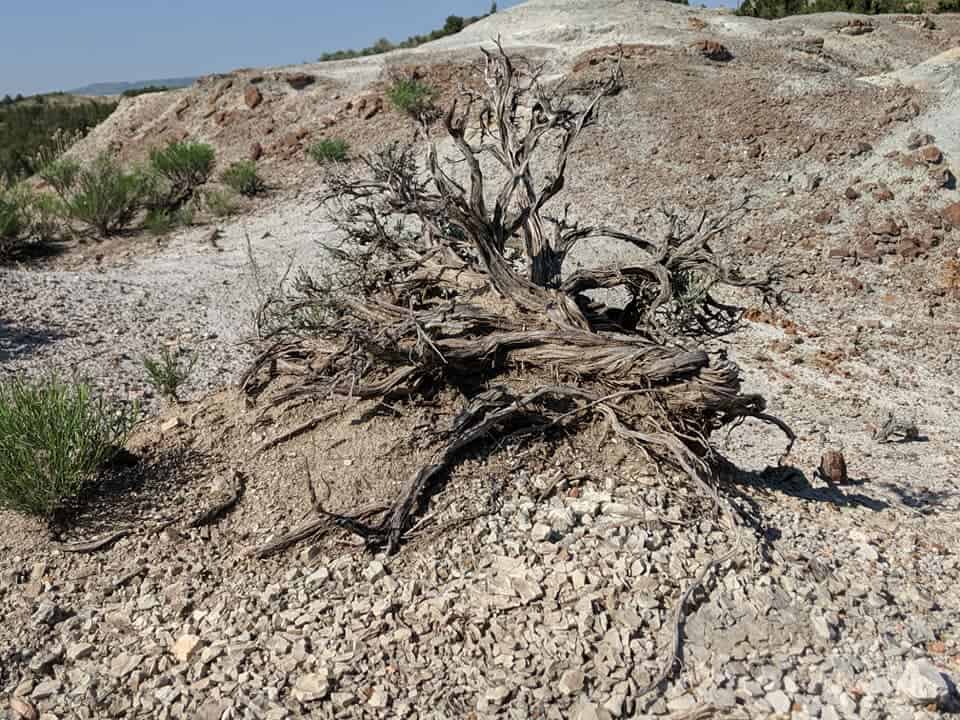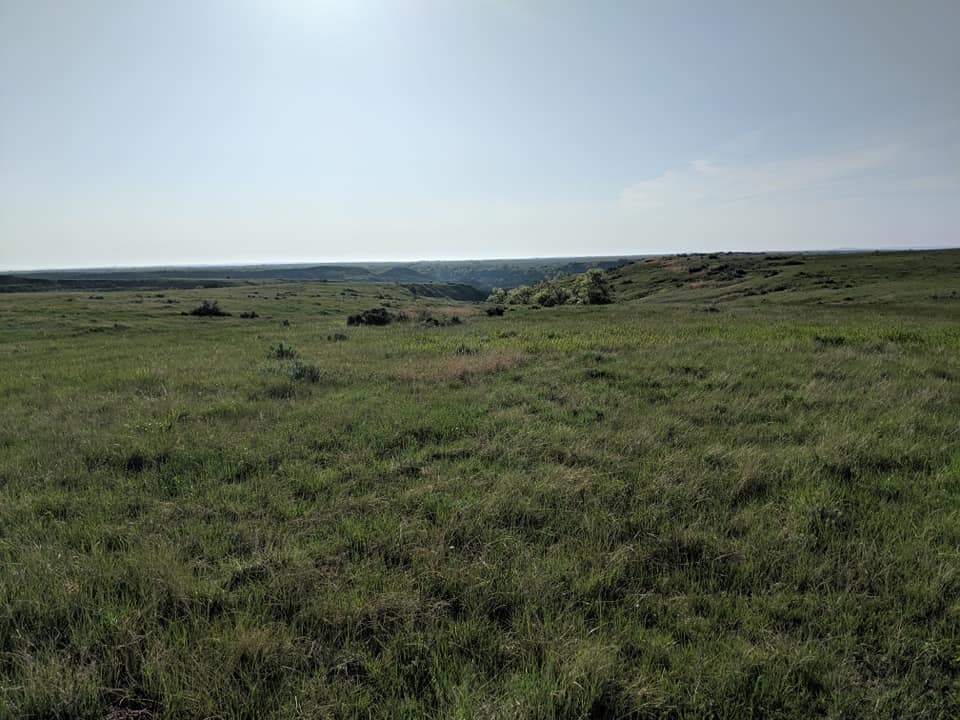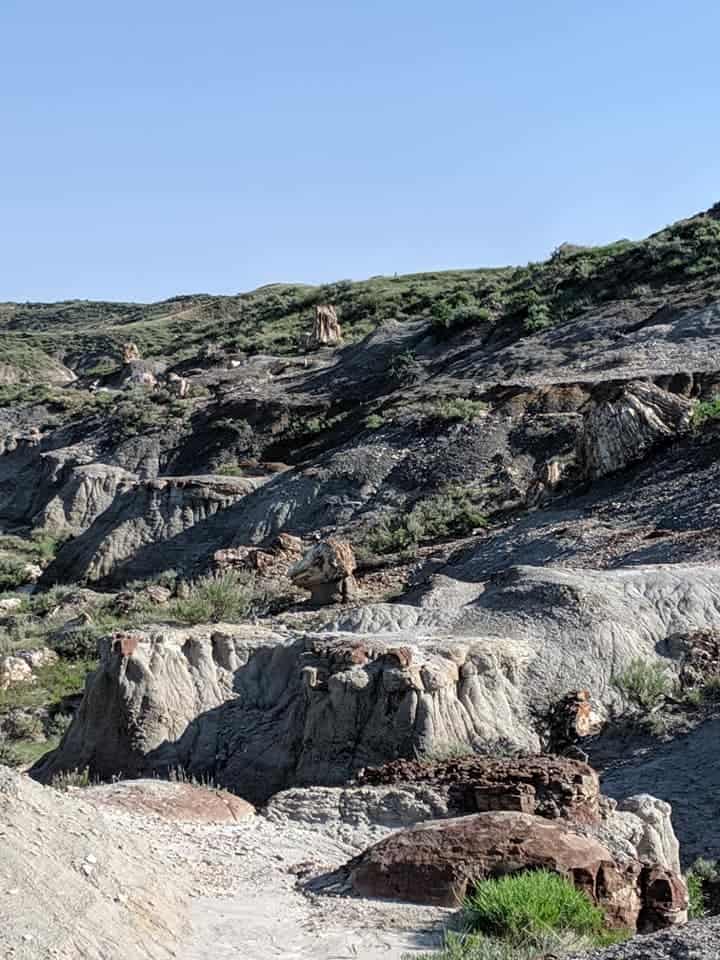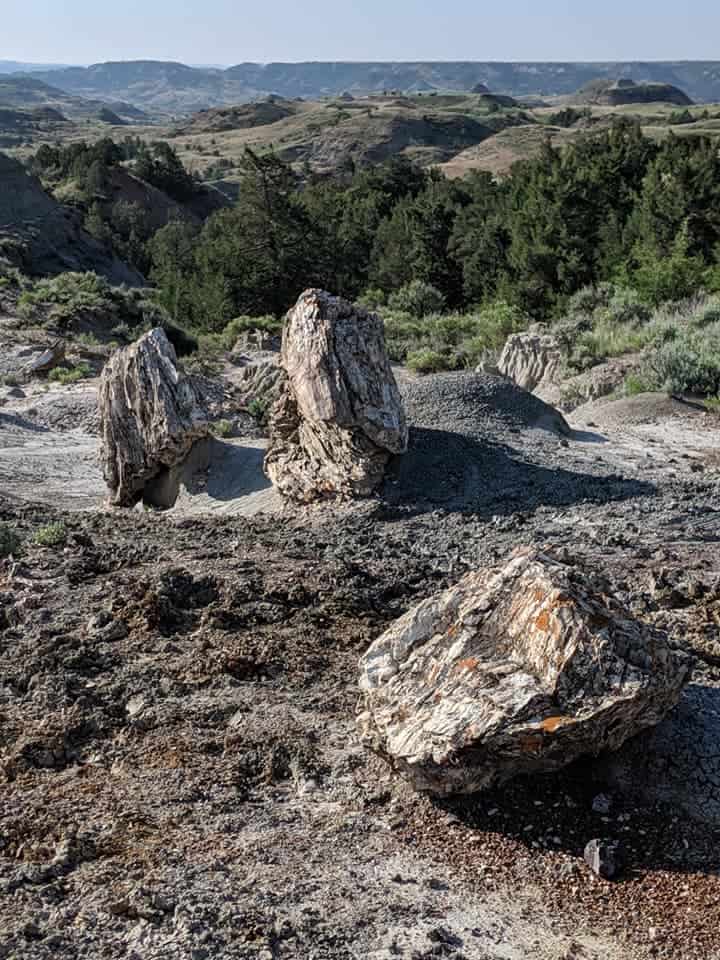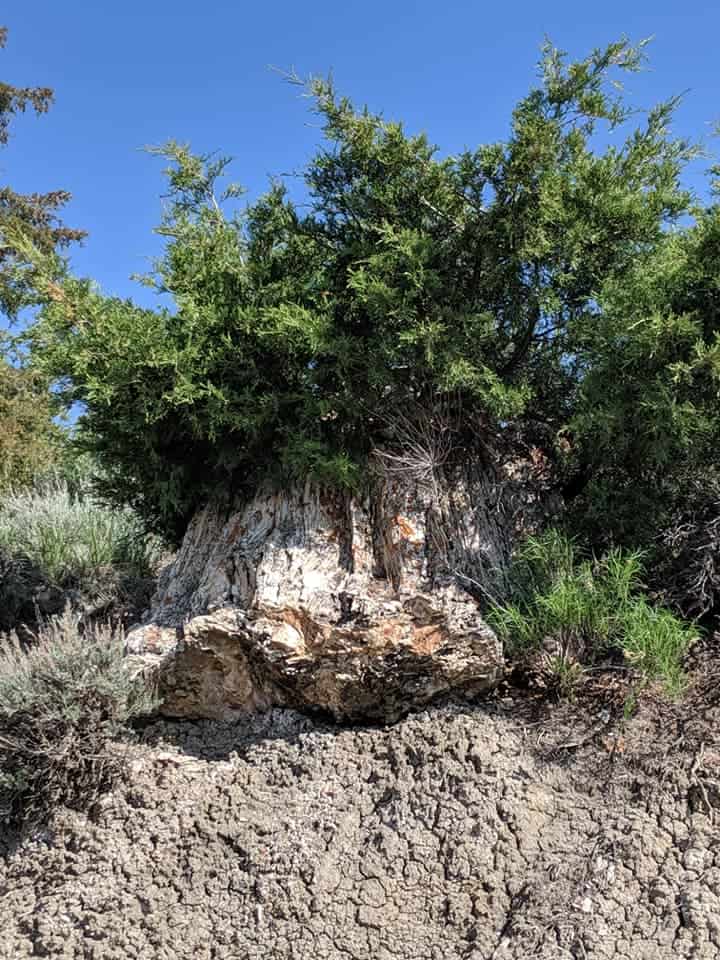 There are other trails available in the South Unit of the park.
For short trails you will have three more options;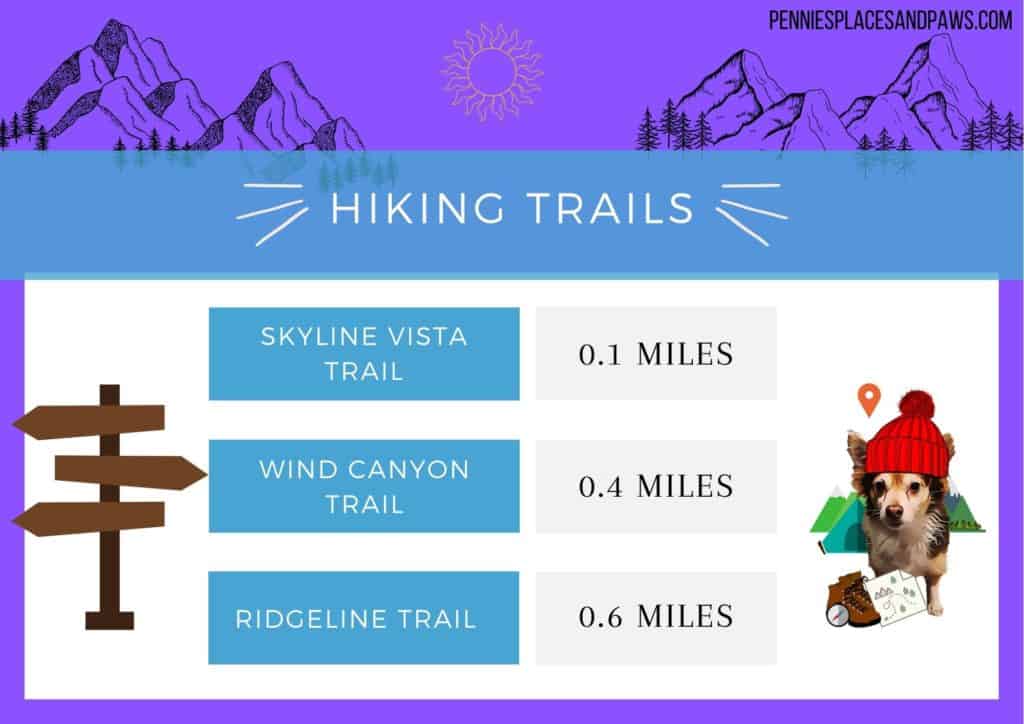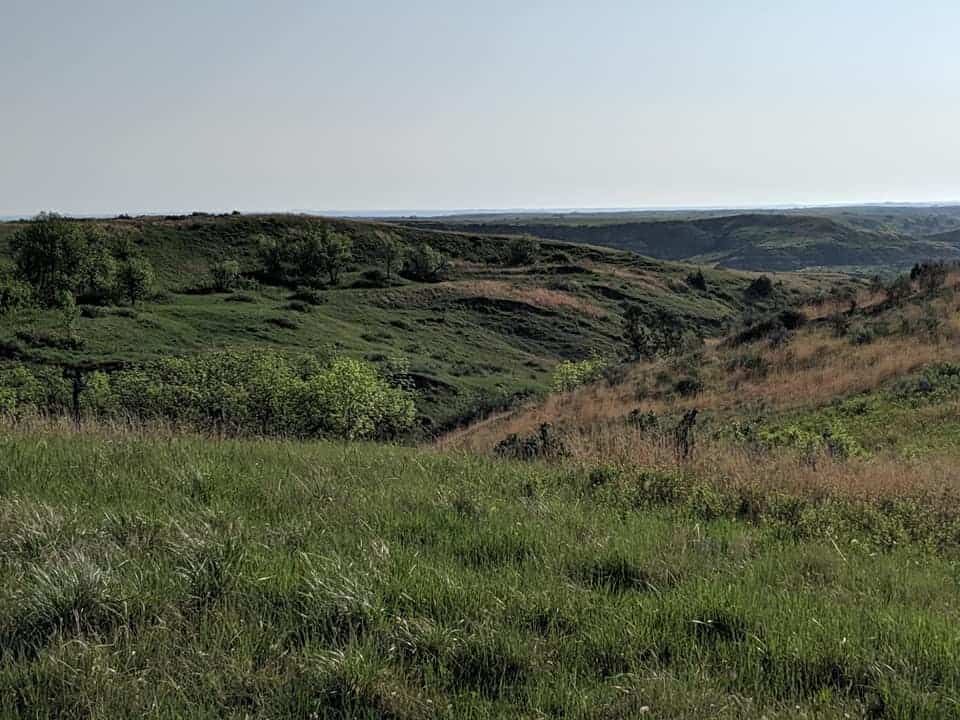 If you have a desire to do some longer hikes you have an additional 4 hikes to choose from;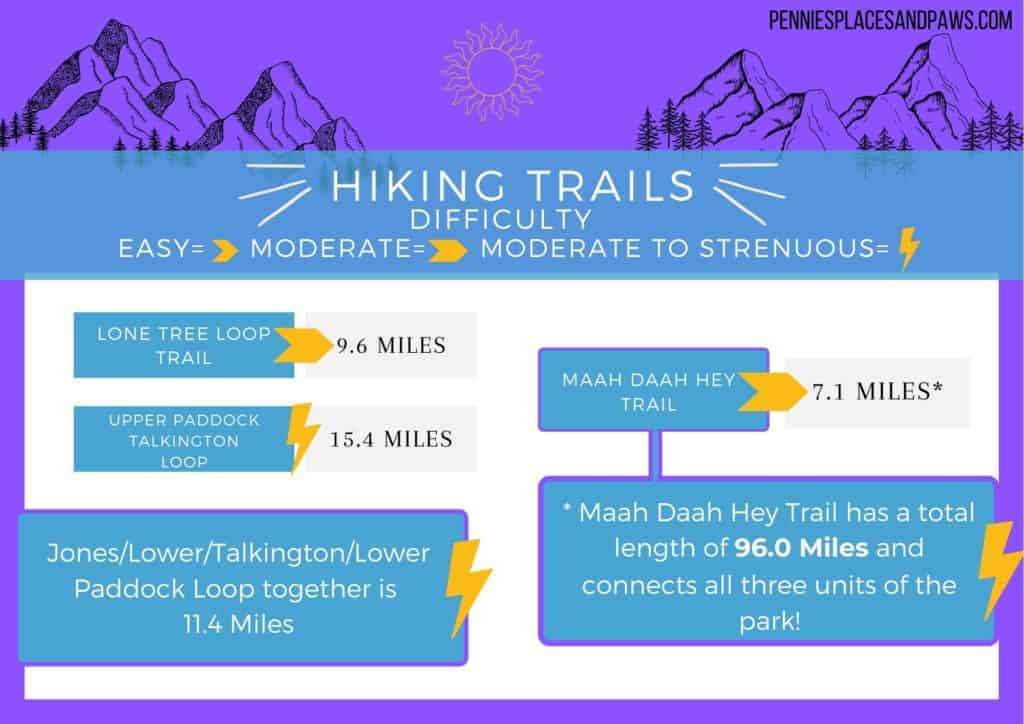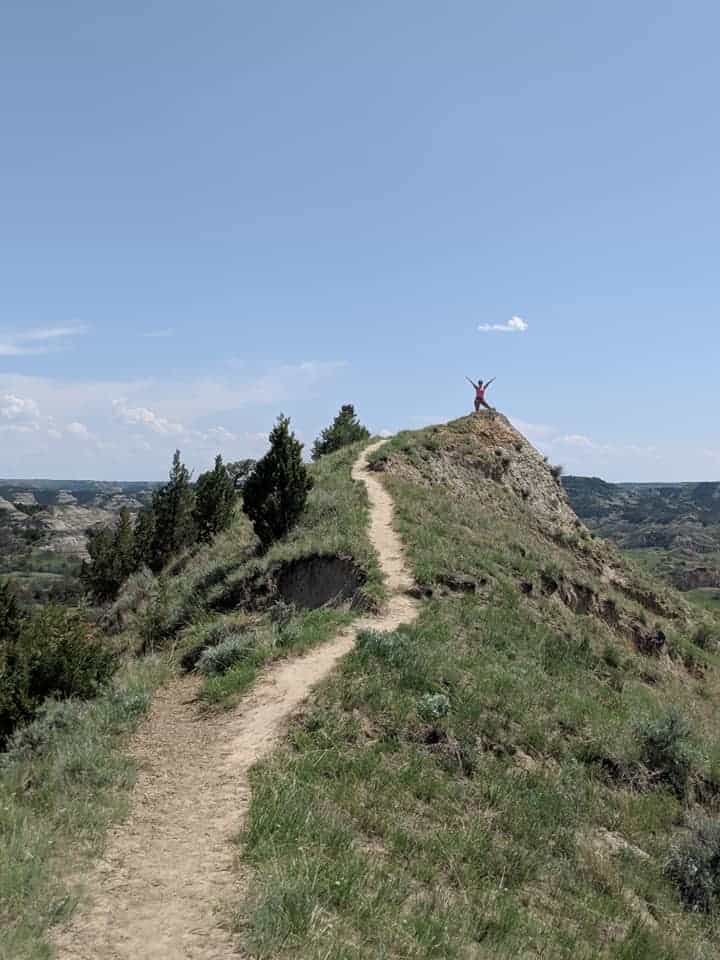 Keep in mind: A common problem on the roads and trails are people getting stuck because of bison walking through and deciding to rest on the paths and roads. From all the signs you will read about bison and safety in the parks, you should know not to approach the bison and stay quite a ways back, especially if there are calves in the area.
Therefore, if one is blocking the trail, you are stuck until they decide to move along or if you can use another path to get to your destination. Some people have been stuck for hours so make sure that you are able to be flexible with your timetable.
Elkhorn Unit
The Elkhorn Unit is perfect for those that are Teddy Roosevelt fans as the only thing there is what is left of his home ranch. To get there you must drive on rough unpaved roads with the last three miles sometimes requiring 4-wheel drive. It is recommended to check the current road conditions at one of the visitor centers before heading out that way. Be aware that there is no cell phone service most of the way to the Elkhorn ranch.
Medora
Medora is the city at the entrance of Theodore Roosevelt National Park. It is a fun old frontier type town that caters to tourists. This means that there are plenty of places to eat and shop when you want a break from the National Park. Medora can also provide tons of entertainment in the form of different shows, musicals, golf and a zipline. Here are two of the shows that you should work into your vacation schedule if possible.
Tribute to Medora
Tribute to Medora by Theodore Roosevelt is an amazing show. The actor that plays Roosevelt does a marvelous job. The show consists of a monologue that will take you through the president's personal history and his passion concerning conservation. This is not a fully scripted show, as the performer interacts with the audience recalling facts and trips that Roosevelt had taken in the different states that the audience members are from. I was blown away during this show.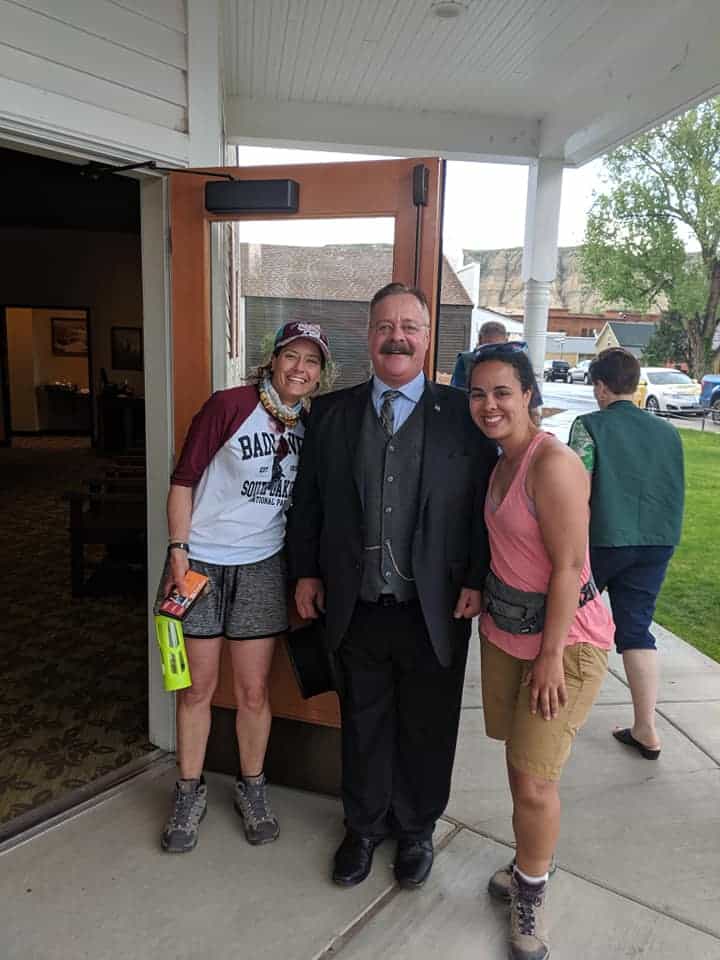 Medora Musical
Medora Musical occurs in an outdoor theater. This musical has a bit of everything like singing, dancing, a horse show, and other variety acts. It tells the story about the history of Medora, and Teddy Roosevelt of course makes an appearance.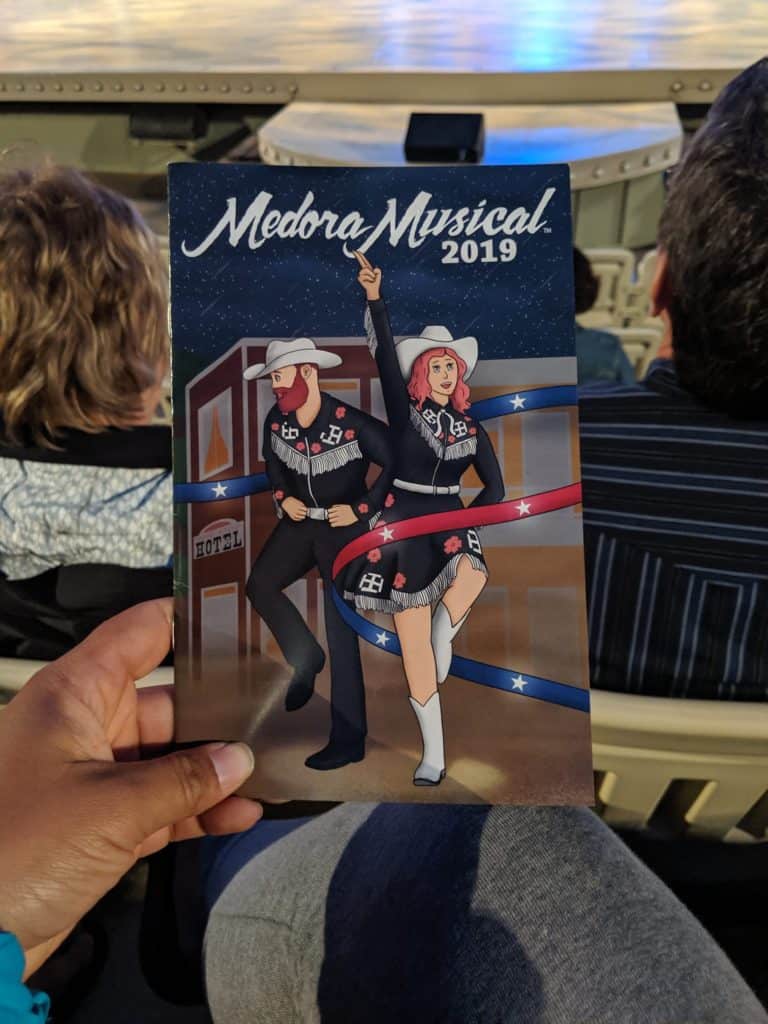 Why You Should Visit:
Theodore Roosevelt National Park is a great National Park to watch wildlife. The landscape is amazing, and the hikes provide the opportunity to see unique things like petrified wood and coal veins, amongst the background of the North Dakota Badlands. The location of the park is near Medora, a city that thrives providing frontier type attractions and stores. The balance of hikes and history in Medora is a combination that you will not find in many places. When you come to Medora, make sure you watch the Theodore Roosevelt re-enactment and hike the Boicourt and Painted Canyon Trails. I can promise you will not regret it!
Pin For Later: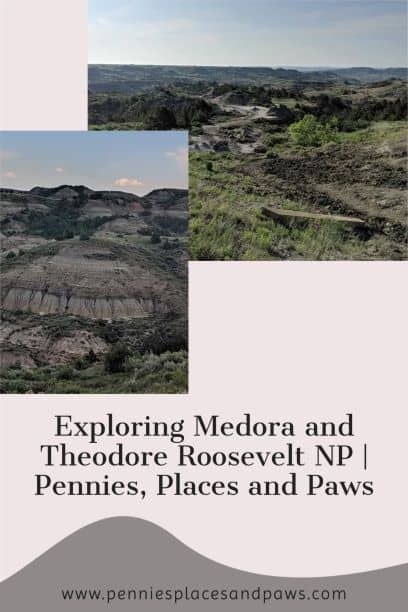 Want a quick list of 25 places to visit in North and South Dakota? Click here!
Amazon and the Amazon logo are trademarks of Amazon.com, Inc, or its affiliates.